Monroe County Middle College (MCMC)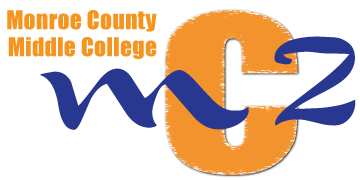 The Monroe County Middle College (MCMC) is a collaboration between the Monroe County Intermediate School District, the Monroe County Community College and the nine local public school districts. We provide a high school option for students for Monroe County students who have identified an interest in health science or STEM career pathway. The school delivers a rigorous and relevant curriculum, enables students to reach their academic potential, and provides students an opportunity to earn up to 60 possible transferable college credits by the end of year thirteen (13).
Announcements
2017-2018 New and Returning Student Information
As the 2016-2017 school year comes to a close, we'd like to share some information with families to help prepare for the 2017-2018 school year. Please review the informational letter that pertains to your students' grade level.

Incoming 1st Year - 9th Grade

2nd Year Students

3rd Year Students

4th Year Students

5th Year Students
Attention students who have applied for the 2017-2018 school year
Letters will be mailed to the address provided during the application process. We anticipate that letters will be mailed the week of April 3, 2017. We apologize for the delay in letting folks know. In the meantime, you may receive an automated email from the student information system letting you know if your application was "accepted" or "denied". It is necessary for us to use the automated system prior to the mailing of the letters. The "accepted" or "denied" status will indicate whether a student was accepted or not. As mentioned, an official letter will follow.
New Phone System
The Monroe County ISD implemented a new phone system. Even though MCMC is not located on the ISD campus, the Monroe County Middle College is able to take advantage of the new features. The Monroe County Middle College now has a MAIN NUMBER - 734-342-8750. When this number is called you will be able to select from a menu.
To reach Robert Krueger-Principal you will press 1.
To reach Sarah Richardville-Dean of Students you will press 2.
To reach Lisa Reaume-MCMC Counselor you will press 3.
To reach the attendance line you will press 4.
It is important to note that ONLY this MAIN number, 734-342-8750 will be updated when/if school is closed/delayed. Mr. Krueger's direct number will NOT be updated, 457-6063 will be updated for the remainder of this school year.
MCMC Office Hours
Normal Office Hours
Normal office hours for Monroe County Middle College are Monday - Friday from 7:00 am - 3:00 pm. The main office (Mr. Krueger) is located in the East Technology Building room E111.
Summer Office Hours
The community college will begin the Spring semester on Monday, May 8, 2017 and as such the college will
The community college will begin the Spring semester on Monday, May 8, 2017 and as such the college will officially close at 12 noon on Fridays. This does NOT impact MCMC's instructional day and we will still be in school until 2:20 pm. There are five Friday's which are impacted by this: May 12, 19, 26 and June 2 and 9. For the safety and well-being of your student, they are required to report to the East Technology Building, room E121 if they will be staying after school on Fridays. ALL other buildings on the college campus will be locked as of 2:30 pm.
It is important that your student be picked up as early as possible on the Friday's noted above. Someone from MCMC will be on site until 4:00 pm. Students have to be picked up by 4:00 pm.

Spring 2017 Campus Hours
MCMC Parent Communication
MCMC uses HoneyWell Instant Alert. This system is automatically tied to the primary number in eSchool. If that number needs to be changed please log into Home Access Center and click on the "Update Registration" option. In addition to HoneyWell, you can monitor the MCMC Facebook Page, Twitter Feed, our homepage (this page) or call the main office at 734-457-6063.
MCMC will close when the Monroe County Community College closes OR at the discretion of the Monroe County ISD Superintendent. In order to keep up with MCCC closing information, it is recommended you register for the AlertNow system used by MCCC.
Every effort will be made to make a decision by 6:00 am.
Student Forms

Community Service Form

Editable 5 Year Plan - Updated

MCCC Application (For DUAL Enrollment-NOT MCMC)

Personal Curriculum Documents

Shadow Form

Work Permit for 14-15 year old (MUST print on pink paper-front and back)

Work Permit for 16-17 year old (MUST print on yellow paper-front and back)
External Links:
ProMedica Regional Monroe Hospital Website
Access Center:
Upcoming Events
Questions?
Principal
Dean of Students
Teacher
Counselor