Superintendent
Message from the Superintendent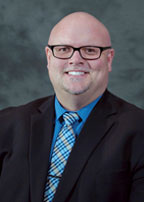 As the summer ends and we prepare for the coming school year, I wish to take this opportunity to welcome you back.
The start of the year is always a special time of the year, with new staff and students, new relationships, and exciting conversations beginning anew after the summer months.
We are fortunate to welcome many new staff members this year, whose diverse areas of expertise will build upon the remarkable dedication to excellence in teaching and learning that characterizes the Monroe County Intermediate School District; a school district with a history of exemplary performance and a commitment to helping all students succeed.
As we look ahead and seek to engage with the opportunities and challenges facing public education today, we continue to be dedicated to making investments that strengthen our community, and to create an environment for our students and staff to pursue their passions and position the MCISD for future success.
I am deeply grateful to each of you for your contributions and extraordinary dedication to our students; I am honored to be a part of such a remarkable and talented community.
You have my very best wishes for what I hope is your best year ever.
Stephen J. McNew, Superintendent
Contact
Superintendent
Stephen McNew, Ed. D.
Superintendent
Superintendent/Administration