Superintendent
Message from the Superintendent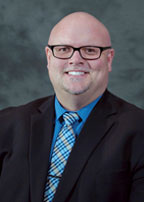 This is an exciting time to be employed at the MCISD. Much time and effort over the last couple years has gone into "Telling Our Story." We have been working on connecting our staff to our Mission Statement, which states, "Preparing Today's Students for Tomorrow's World." There are two areas that have been the primary focus: employee engagement; and creating a positive culture.
We have given our staff a voice. It's vital that employees feel comfortable expressing their opinions about their workplace. By explaining employees' role in important decisions, and by making communication a priority, we hope that employees feel comfortable supporting, and even advocating, for our goals. We also feel that communication builds relationships between all levels of staff, creating an environment of effective collaboration. Ultimately, empowered employees who feel satisfied in their jobs, dedicated to their work, and confident in their supervisors, are more likely to be committed to our organization.
The MCISD staff recently earned Accreditation through AdvancED - the first ISD in the state to accomplish such a task. Most importantly, two things came from this endeavor: we have a "caring, committed, collaborative staff" and the "overall culture is focused on student success."
We celebrate the work of our staff and continue to provide each student with a high quality educational experience. We strive to prepare today's students for tomorrow's world.
Stephen J. McNew
Contact
Superintendent
Stephen McNew, Ed. D.
Superintendent
Superintendent/Administration