Monroe County Middle College (MCMC)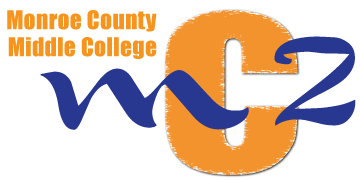 The Monroe County Middle College (MCMC) is a collaboration between the Monroe County Intermediate School District, the Monroe County Community College and the nine local public school districts. We provide a high school option for Monroe County students who have identified an interest in health science or STEM career pathway. The school delivers a rigorous and relevant curriculum, enables students to reach their academic potential, and provides students an opportunity to earn up to 60 possible transferable college credits by the end of year thirteen (13).

MCMC Parent Information Night Presentation, 2020
For those who have applied to MCMC for next school year we are still working on the applications. As of right now MCMC is out of school until Friday, April 3 due to the mandated school closure. MCMC spring break is still April 6 - 10. As of now, the ISD Staff are out of the buildings until Monday, April 6. It's not likely that we will be sending anything out about next year until at least mid April. If we can figure out a way to work on this remotely, we will, but even that option will take some time.
If you know someone who has applied, please pass this information along.
The application for Monroe County Middle College is now available. The deadline to submit an application is Friday, February 28, 2020 at 4:00 pm.
Students applying from Monroe Middle School: MCMC will work with MMS to receive the report card, MSTEP and attendance directly from MMS.
Applications are to be dropped off at the Monroe County ISD, Professional Development Center (Building B), 1101 S. Raisinville Rd. Monroe, MI 48161. Applications can be dropped off Monday – Thursday from 8:00 am – 5:00 pm and on Friday's from 8:00 am – 4:00 pm.
There are two parts to the application, a portion that will be submitted hard copy and an online portion. Please watch this screencast of instructions for completing the application.

Video instructions for completing the application

Information about MCMC and the application

Student writing sample This can be typed or handwritten and will be submitted hard copy.

Recommendation forms (Will be submitted by the recommender)

MS Word Version

Online portion of the application. (Will be completed online) You MUST select "MONROE ISD" as the data base when asked. If you need a paper application please contact Robert Krueger at 734-342-8751 or robert.krueger@monroeisd.us.
Please watch the screencast for more information if you encounter problems or have questions.
Announcements
2019-2020 New and Returning Student Information
Please review the informational letter that pertains to your students' grade level.

NEW - Orientation Reminder

Incoming 1st Year - 9th Grade

2nd Year Students

3rd Year Students

4th Year Students

5th Year Students

MCMC Supply List
Inclement Weather Delays and/or Closings

Letter to Parents Regarding School Closing/Delays
New Phone System
The Monroe County ISD implemented a new phone system. Even though MCMC is not located on the ISD campus, the Monroe County Middle College is able to take advantage of the new features. The Monroe County Middle College now has a MAIN NUMBER - 734-342-8750. When this number is called you will be able to select from a menu.
To reach Robert Krueger-Principal you will press 1.
To reach Sarah Richardville-Dean of Students you will press 2.
To reach Michele Jenkins-MCMC Counselor you will press 3.
To report an absence, press 4.
It is important to note that ONLY this MAIN number, 734-342-8750, will be updated when/if school is closed/delayed. Mr. Krueger's direct number will NOT be updated.
MCMC Office Hours
Normal Office Hours
Normal office hours for Monroe County Middle College are Monday - Friday from 7:00 am - 3:00 pm. The main office (Mr. Krueger) is located in the Administration Building room A107.
MCMC Scholarship and Financial Aid Information
Paying for college can be expensive. There are lots of resources out there to help folks attend college AND keep it affordable. Check out the information below for all sorts of information about how to pay for college.
Scholarship Information

StudentScholarships.org

2020 Thrift Shop Scholarship Information

2020 - Monroe County Fair Assocication Agricultural Scholarship

2020 - Monroe County Fair Association Warren Siebarth Memorial Scholarship
Financial Aid Section

www.gocollege.com

www.scholarships.com
Resources

Financial Aid Night Presentation

Deadlines for Various Universities
Various Financial Aid Links

Fastweb

Community Foundation of Monroe -Click on Scholarships Tab

MEA Scholarship

MCCC Scholarship Page -These do not need be used strictly at MCCC

MCCC Scholarship Page -If you are planning to continue at MCCC
MCMC Parent Communication
Attendance Phone Number
734.342.8750, option 4
MCMC uses HoneyWell Instant Alert. This system is automatically tied to the primary number in Home Access Center. If that number needs to be changed please log into Home Access Center and click on the "Update Registration" option. In addition to HoneyWell, you can monitor the MCMC Facebook Page, Twitter Feed, MCISD homepage or call the main office at 734-342-8750.
MCMC will close when the Monroe County Community College closes OR at the discretion of the Monroe County ISD Superintendent. In order to keep up with MCCC closing information, it is recommended you register for the AlertNow system used by MCCC.
Every effort will be made to make a decision by 6:00 am.
Student Forms

Community Service Form

Editable 5 Year Plan - Updated

MCCC Application (For DUAL Enrollment-NOT MCMC)

Personal Curriculum Documents

Shadow Form

Work Permit for 14-15 year old (MUST print on pink paper-front and back)

Work Permit for 16-17 year old (MUST print on yellow paper-front and back)
MCMC Calendar

2019-2020 Calendar
External Links:
ProMedica Regional Monroe Hospital Website
Access Center:
Order Transcripts:
The ordering button above provides current students and alumni the ability to order and send your MCMC transcript electronically through Parchment.
Upcoming Events
Questions?
Principal
Dean of Students
Secretary
Teacher
Counselor