Mental Health Support Services
The MCISD has developed a team to address the mental health issues in Monroe County schools and to promote positive mental health to support student success. This team works directly with schools in the areas of crisis management and professional development. The Mental Health Team provides assistance and direction when a crisis takes place at a school, connecting with local mental health agencies so that services can work efficiently to help families, staff, and students. Additionally, the team provides ongoing trainings and professional development in areas such as: trauma, anxiety, self-care to promote employee wellness, youth mental health first aid, strategies for the classroom to reduce disruptions, mental health curriculum, and suicide prevention. The Mental Health Team also serves on committees to help bridge the gap between home, school, and local agencies in the area of mental health. The development of the mental health team directly reinforces the work of supporting the whole child, whole school, and whole community to prepare today's students for tomorrow's world.
The MCISD Mental Health Services Team are now Certified Youth Mental Health First Aid Trainers. This training is for anyone who works with youth in or outside of the school setting.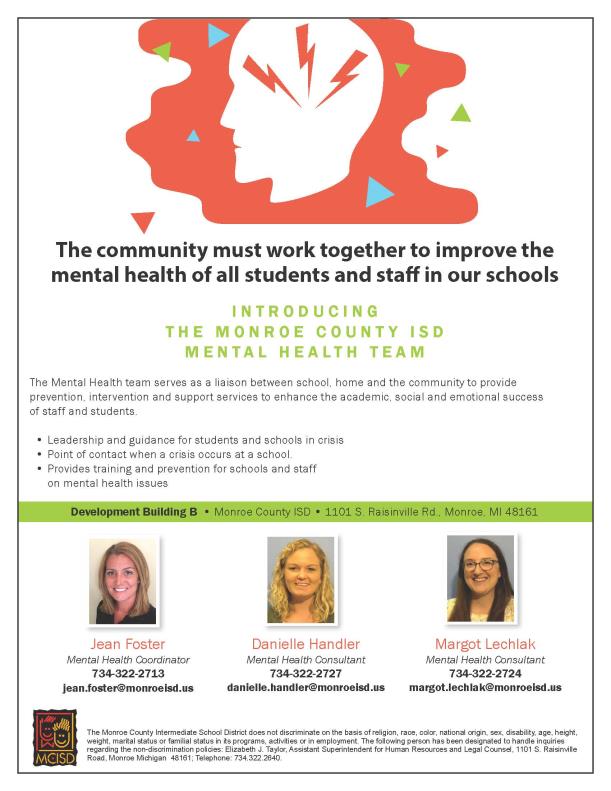 Resources to Help During COVID-19 Pandemic
FREE PD During COVID-19

https://www.mentalfloss.com/article/540264/yales-insanely-popular-happiness-course-now-open-everyone-online

Trauma-Informed Resilient Schools for FREE: https://store.starr.org/Course/view/trauma-informed-resilient-schools
Register for Sessions
YMHFA Training -
Aug 4 and Aug 5 (You MUST attend both sessions in their entirety)
MCISD
8AM-12PM
Please bring your own snacks and drinks.
Please register on WisdomWhere for this. We expect this to fill, so please do not hesitate! Seats are limited!
Mental Health Services Referrals
This form is to be completed by a building or district administrator, unless approval has been given by an administrator. Please contact your administrator prior to making this request. Please complete this form if you are requesting assistance from the Monroe ISD Mental Heath Team regarding staff or student needs. We will respond to you within two business days. Thank you for contacting us.

Mental Health Referral
Resources

Parent Resources during COVID -19 Closure

Non Traditional Parenting Support Group

Monroe County Mental Health Resource Guide

Monroe County Community Resource Guide

#IMatterWellnessGuide

Create Connections that Matter

Trails to Wellness
Monroe County Mental Health Authority Crisis Line: 734-243-7340

Community Mental Health Authority; Monroe, MI
National Suicide Prevention Lifeline: 800-273-TALK (8255)
Crisis Text Line: Text CTL to 741741
OK2SAY (School Bullying/Crisis/Violence): 855-565-2729
Mental Health Back to School Toolkit - for Parents, Students, Caregivers, and School Staff
Trauma-Informed School Practices
Greetings from Oregon,
Brenda Morton from the College of Education and Anna Berardi from The Trauma Response Institute (TRI) at George Fox University would like to share with you our open access (no cost) textbook, Trauma-Informed School Practices: Building Expertise to Transform Schools.
The target audience is all of us involved in k12 education — from board members to bus drivers, support staff to credentialing organizations, parents and the students themselves, administrators, teachers, and the universities that prepare them.
The link above takes you to a PDF copy of the text, as well as additional download options to be available soon, including an ebook format, and an option to purchase a print copy through Lulu, a subsidiary of Amazon. We invite you to forward this email to colleagues who might benefit from this resource.
This textbook will be updated yearly. If you'd like to send us your comments for future consideration, please do so directly to Anna, Brenda, and Kimberley at the TRI. Our emails are listed below.
We hope this text serves all who work in k12 schools, undergraduate and graduate students preparing for teacher and/or administrator credentials, mental health professionals partnering with schools, and the professional associations, certification, and accreditation bodies that set standards for the knowledge, skills, and dispositions of k12 educators.
Contact
Jean Foster

Mental Health Crisis Coordinator
Danielle Handler

Mental Health Consultant
Margot Lechlak

Mental Health Consultant