Mental Health Support Services
The MCISD has developed a team to address the mental health issues in Monroe County schools and to promote positive mental health. This team will work directly with schools in the areas of crisis management and professional development. The Mental Health Team will provide assistance and direction when a crisis takes place at a school, connecting with local mental health agencies so that services can work efficiently to help families, staff and students. Additionally, the team will provide ongoing trainings and professional development in areas such as trauma, anxiety, self care, mental health first aid, psychological readiness, strategies to use in the classroom to help reduce disruptions, mental health curriculum, and suicide prevention. The Mental Health Team will serve on local committees and help to bridge the gap between home, school, and local agencies in the area of mental health.
Activities

Suicide Remembrance Vigil - September 10, 2019

Dueling Pianos Event - October 3, 2019 - hosted by ProMedica Regional Hospital to support the School Health Fund to purchase telehealth systems for Monroe County Schools.

Everyday Superhero 5K Run/Walk - October 5, 2019 - Supports Gabby's Ladder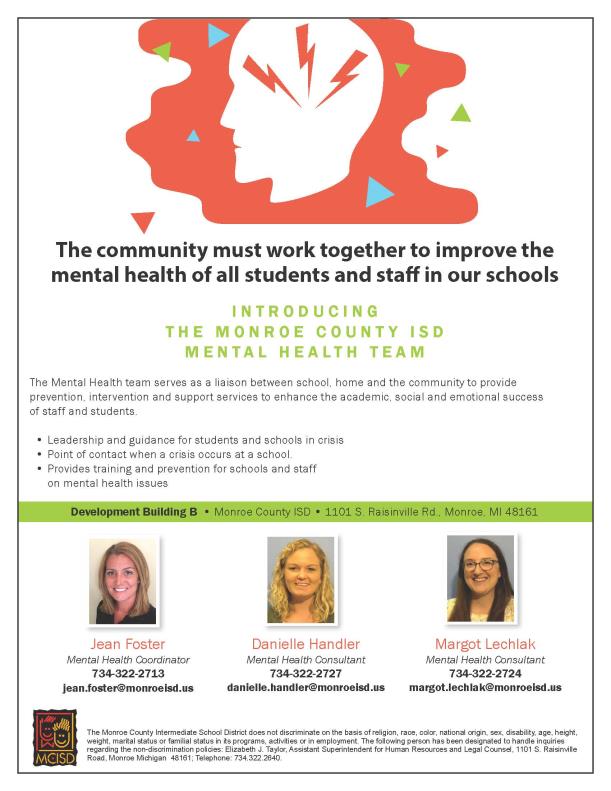 Resources

Monroe County Mental Health Resource Guide
Monroe County Mental Health Authority Crisis Line: 734-243-7340

Community Mental Health Authority; Monroe, MI
National Suicide Prevention Lifeline: 800-273-TALK (8255)
Crisis Text Line: Text CTL to 741741
OK2SAY (School Bullying/Crisis/Violence): 855-565-2729
Mental Health Back to School Toolkit - for Parents, Students, Caregivers, and School Staff
Contact
Jean Foster

Mental Health Crisis Coordinator
Danielle Handler

Mental Health Consultant
Margot Lechlak

Mental Health Consultant